KALIKÚ is the new interior design project of the boutique hotel Zentik Project, is an initiative where we combine our passion for maintaining the ancestral tradition of using natural fibers that have passed from generation to generation and revisit the way of working until now, proposing new ways of using them to achieve unique creative pieces that decorate any space combining art, design and elegance.
KALIKÚ has managed to redefine the way of working in a humane, sustainable and generating a social impact with all our partners, we are a group of artists, artisans and talents who believe in the dignity of handmade work, so our team helps to grow and professionalize the business of weaving communities.
We are a combination of traditions and design that works from the heart with fibers such as tule, bejuco, wicker, rattan and seaweed which are the fibers par excellence in Mexico used since our ancestors for their high durability and resistance to the different climates of our country.
KALIKU is currently working with plastic artists, macramé, loom, crochet, clay and ceramic artists that enrich our brand in a wonderful way, achieving innovative and very special pieces.
KALI means WORLD and EARTH in Nahuatl which is the most spoken dialect in Mexico and the pioneer culture in the use of tule.
KÚ means BROTHER in Otomí, which is the dialect spoken in the first community where we worked.
KALIKÚ is a compound name that means "brothers of the world".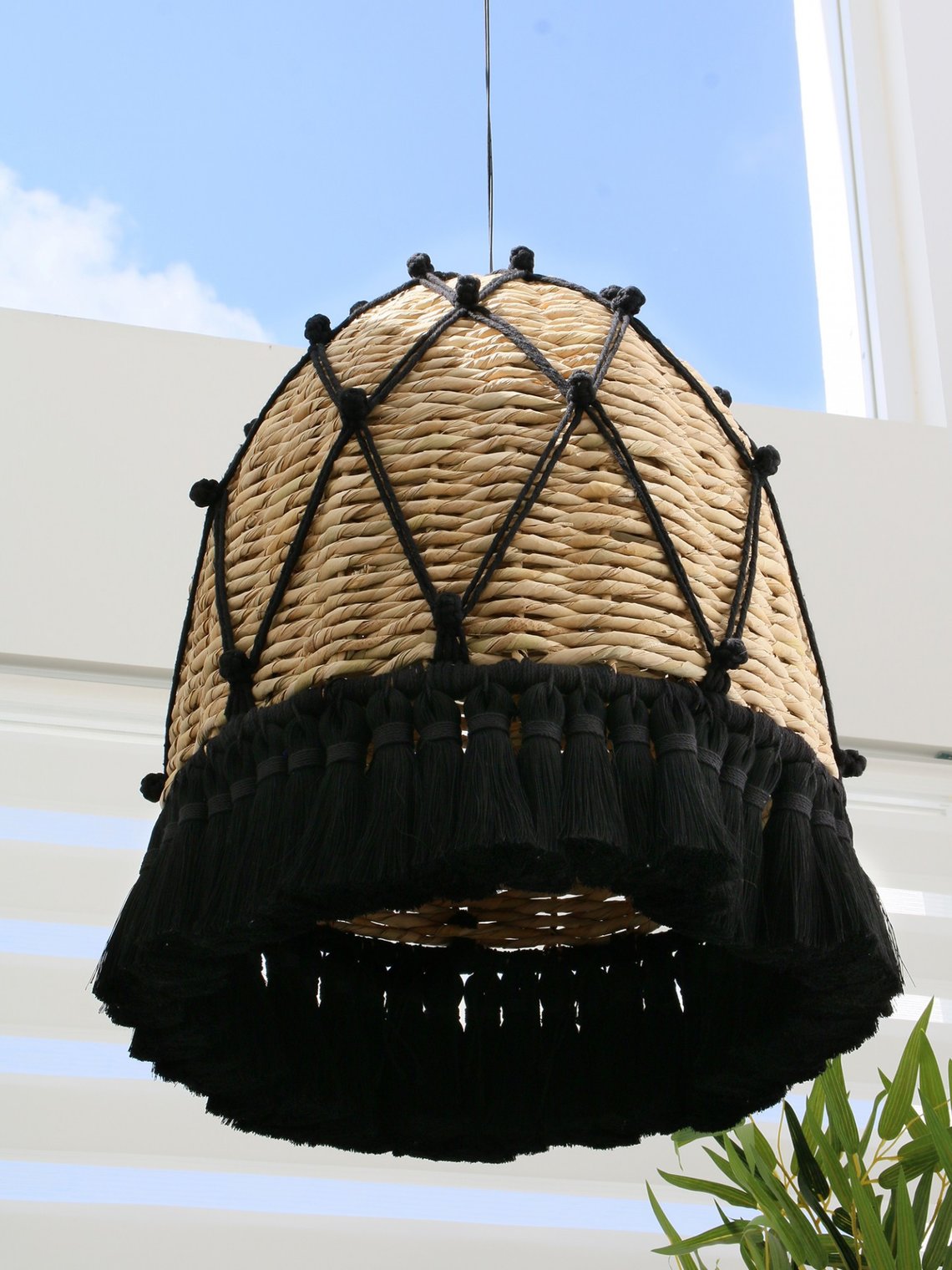 HUKÚ is an ancestral totem object of nature created with tule, it is a decorative sculpture in itself that can be used as a coffee table, side table, auxiliary table or only as a decorative piece.
Material: 100% natural tule and carbon steel.
Durability: 20 to 30 years.
Measurements: 46cm x 38cm x 38 cm
Price: 3,900 mx
Available colors: Black, white, mustard, pink and gray.
KÚ LAMP
Each of our KÚ lamps is inspired by colors that transmit peace and harmony, in combination with the ancestral strength of the tule and the intervention of macramé artists.
Material: Tule and 100% natural cotton.
Durability: 20 to 30 years.
Sizes
Large: 60cm x 60cm
Medium: 43cm x 43cm
Small: 33cm x 33cm
Mini: 15cm x 15cm
Price
Large: $5,400mx
Medium: $3,900mx
Small: $2,900mx
Mini: $1,900mx
Each lamp includes textile cable, canope and socket.
THE TULE
The tule is half water and half sun
It is born in water, matures 20 days under the sun and rests 20 nights under the moon.
You work as a family with hands of water and when you knit you have to smell it and feel it.